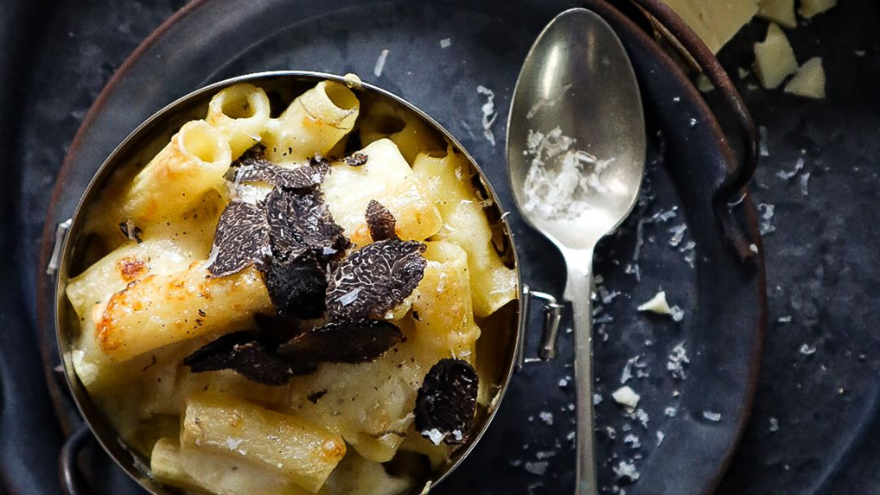 INGREDIENTS
500g Benedetto Cavalieri Mezzi Rigatoni
Tasman Sea Salt
150g Lescure Butter
2tbsp Plain Flour
500ml Full Cream Milk
250g Comté grated, reserve some to top the Mac n Cheese before baking
black pepper to taste
1 Fresh black Truffle Coomer Truffles
Pons Black Truffle Condiment
You will need ramekins or oven proof bowls
METHOD
Bring the pasta to boil in a large pot of salted water. Cook until al dente, for approximately 8 mins and drain. Divide between 4 oven proof bowls or ramekins and set aside on a baking tray.
Melt butter over a gentle heat in a medium sized pan, add flour and stir to combine. Gradually add milk and continue to stir over a medium heat until the béchamel sauce begins to thicken, check seasoning and adjust with salt & pepper.
Remove pan from heat, stir in half of the grated comté & grate a few slivers of truffle into the sauce.
Divide sauce between each ramekin and top with extra comté.
Bake for 15-20 mins in the oven at 180C until the top of sauce is golden brown and the cheese is bubbling on top.
TO SERVE
Drizzle with truffle oil & garnish with extra truffle slices prior to serving and a touch of sea salt.
All ingredients available from Simon Johnson