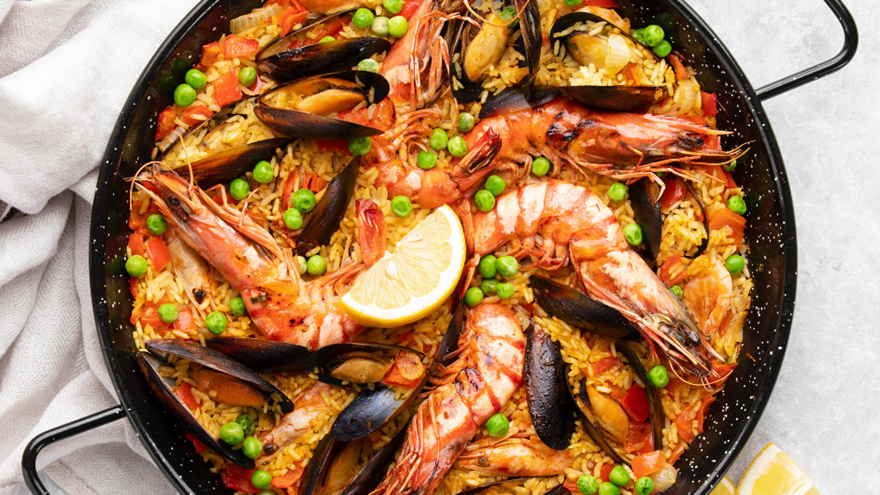 Ingredients available from Craig Cook the Natural Butcher, LoSurdo's, My Wellness, Simon Johnson & Steve Costi Seafoods.

3 clove garlic, sliced
1/2 onion
1/2 capsicum
30 ml oil
1/2 ripe tomato, diced
1 tbsp tomato paste
1 pinch saffron
1 tbsp smoked paprika
155g paella rice
400ml chicken stock

To serve: peas and 1/2 lemon

Optional:
100g chicken thigh, diced
100g chorizo sausage, diced
100g squid, cut into strips
2cm cubes salmon
Mussels, clams, fish, prawns

Add oil to fry pan on high heat. Chop onion and capsicum into 1cm diced. Add to hot pan and fry until golden. Dice chorizo, add to pan. Cook until the chorizo has gained some good colour.

Chefs' Tip: colour means flavour, so don't rush this step. Cook off the chorizo, capsicum and onion until everything has a good dark colour on it (almost burnt but not charcoal).

When oil seeps out of chorizo (fat renders), add sliced chicken thigh fillet. This will then cool your pan down slightly. Cook chicken until it has some colour.

Cut squid into strips, add to pan (only once the chicken has some colour as adding the squid will cool the pan down yet again).

Add the diced tomato, tomato paste and sliced garlic. Cook out for 30 seconds, then add smoked paprika, stir. This base paste is known as 'sofrito'.

Next add the rice, stir around the pan so it gets an even coating, then add stock. Stir. **Add salt, pepper and chilli to your preferred taste.**.Give one last stir. After this point you should place your spatula down and not use it again to stir.