One-pot lasagne
An easy one-pot lasagne recipe the whole family will love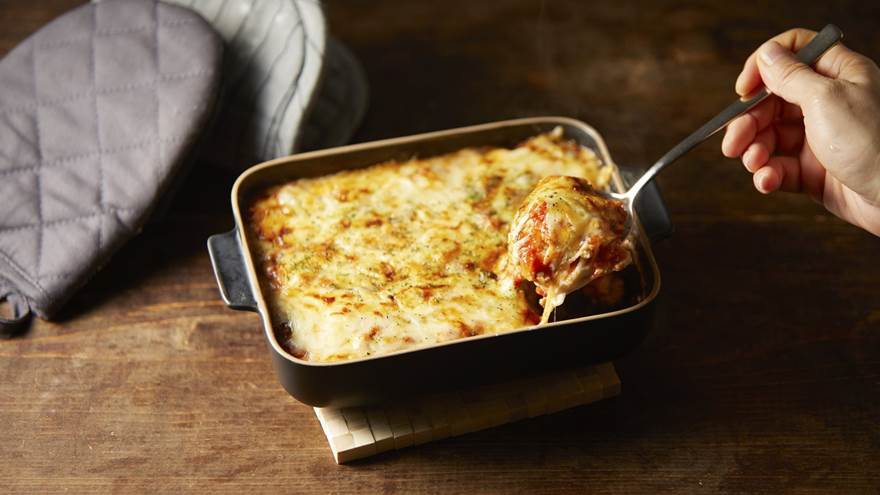 You can get all the ingredients you need for this easy family meal from Northbridge Plaza stores including Woolworths, LoSurdo's, Craig Cook the Natural Butcher and Simon Johnson.
Lasagne is the ultimate crowd-pleasing comfort meal. Who doesn't love rows of hearty bolognese sauce and melted cheese between tender pasta sheets — and don't forget that crispy top layer! It's a classic dish the whole family can get on board with.
The only downside to this mouth-watering family meal? With so many different elements involved, it can get a little messy! From boiling the pasta, to cooking the mince and layering the sauce and cheese, the cook-up can leave you with a kitchen filled with dirty pans and dishes.
The good news is, lasagne doesn't have to equal loads of mess! With this simple one-pot recipe, all of the elements are cooked in the same dish — resulting in minimal clean-up! It's quick, easy and delicious and will leave you with plenty of leftovers for the rest of the week (although we can't guarantee that the family won't go back for seconds!).
Serves: 6
Prep time: 10 minutes
Cook time: 30 minutes
INGREDIENTS:
500 grams beef mince
1 diced brown onion
2 tablespoons tomato paste
1 bottle passata
250 grams Ricotta cheese
250 grams Mozzarella cheese
½ cup grated Parmesan cheese
4 cloves of crushed garlic
1 finely diced carrot
Basil leaves to serve
1 tablespoon mixed Italian herbs
2 tablespoons of olive oil
2 tablespoons of milk
Instructions
Heat the olive oil in a large, deep frying pan on medium heat and cook the onions until translucent. Add garlic and carrot and cook for 3 minutes or until soft
Add the mince and break up with a wooden spoon. Cook for 5 minutes or until browned
Add herbs, salt and pepper, crushed tomato and two cups of water. Stir and bring to boil
Break the lasagne sheets into pieces as per box instructions and add one by one to the pan so they don't stick together. Cook for 15 minutes or until the pasta is tender
Mix the ricotta cheese, milk and parmesan together. Spoon half the mozzarella cheese into the pan, then pour the ricotta mixture over that. Add the remaining mozzarella and let it cook until melted
Serve with fresh basil on top!