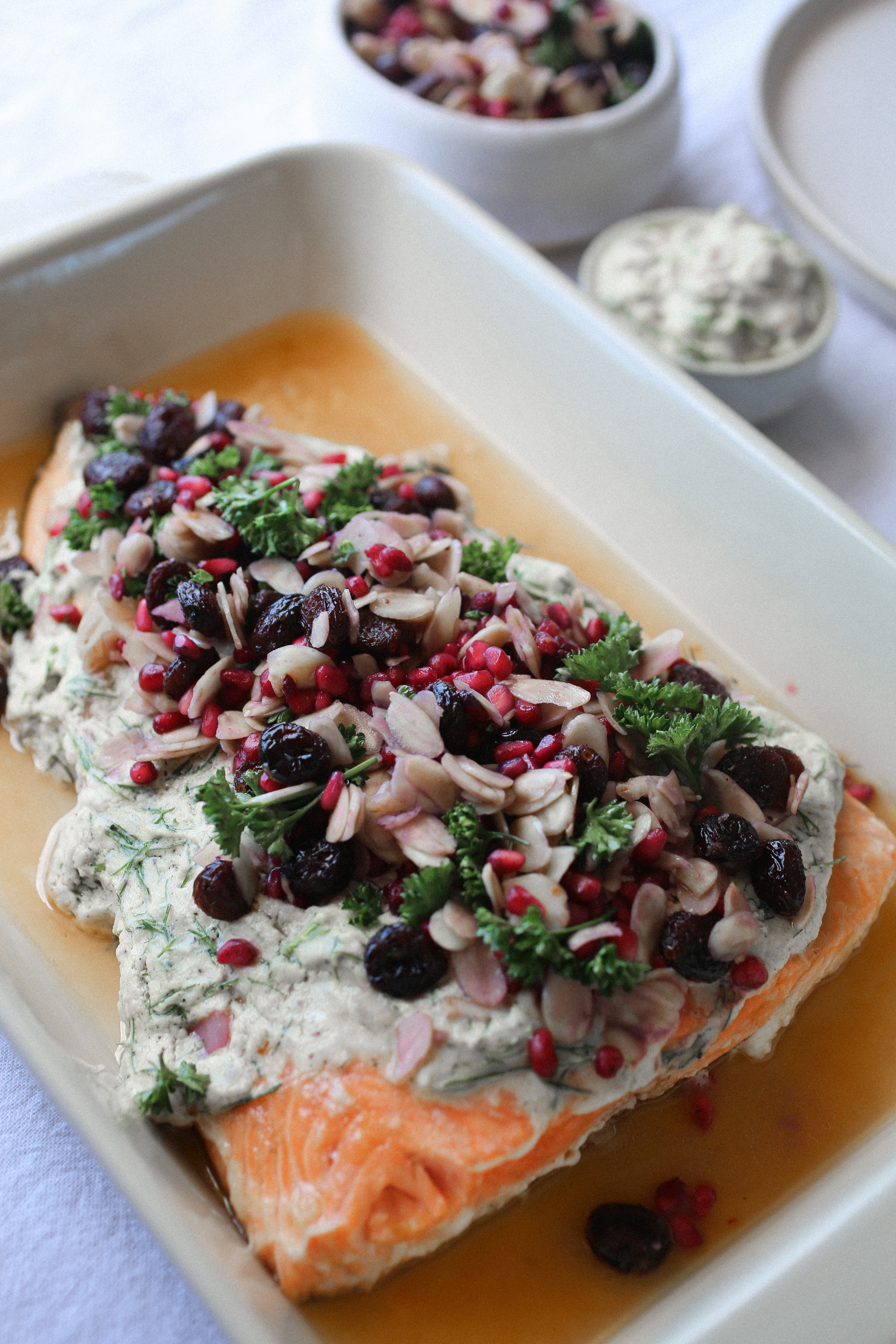 This recipe has so many incredible flavours and will be a hit with the family for years to come.

Serves 8
GF & Refined sugar-free

Ingredients

Honey butter glaze
150g butter, unsalted
150g raw honey
3 garlic cloves, minced
Creamy dill sauce
295g Botanical Cuisine macadamia cheese
1/2 cup fresh dill, finely chopped
1 shallot, finely grated
1/2 teaspoon sea salt

Salmon

1kg salmon side (skin on, bones removed)
1 tablespoon sea salt
1 teaspoon black pepper
Tapenade
140g dried cranberries
125ml orange juiced (4 oranges)
130g flaked almonds 1/3 cup parsley, roughly chopped
1 cup pomegranate, seeded
1 tablespoon extra virgin olive oil

Method

1. Preheat oven to 180°C
2. Heat orange juice in a saucepan over high heat until hot. Turn stove off, add cranberries and cover for 15 minutes. Drain the cranberries and set aside to cool. Discard the juice.
3. In a medium-sized bowl, combine all creamy dill sauce ingredients with a wooden spoon. Set aside in the fridge.
4. Place a large sheet of foil on a tray and top with another layer of baking paper. Place salmon on the paper then crunch up the foil sides to prevent any liquid from spilling out onto the tray.
5. Put honey butter glaze ingredients in a saucepan over high heat. Once the butter starts foaming, turn it down to medium heat. Allow to foam again for about 2 minutes then remove and pour straight over the salmon.
6. Season with salt and pepper then place a top layer of foil over the salmon. Bake in the oven for 15 minutes.
7. Remove from oven and carefully take off the top layer of foil. Place the salmon in the grill on high heat to cook for another 10 minutes or until the edges start to caramelise.
8. Remove from grill and transfer salmon onto a serving platter to cool for 20 minutes.
9. Mix the remaining tapenade ingredients in a large bowl. Set aside.
10. Begin to layer the salmon, starting with the creamy dill sauce. Using a spatula, spread the sauce evenly over the whole salmon.
11. Dress with tapenade toppings generously, squeeze lemon on top if desired.
12. Serve with extra tapenade and lemon wedges.